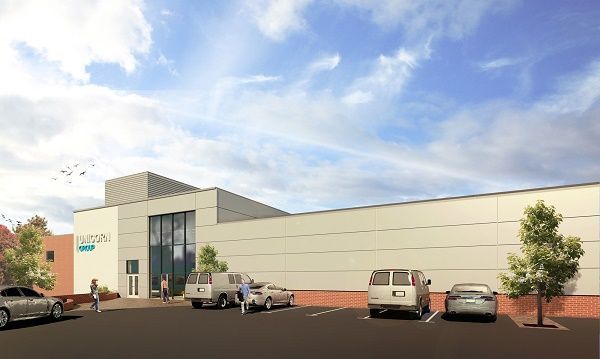 Unicorn Group is set to build and develop a new business base after buying the former 17.5-acre Coca-Cola site outside Lisburn. Manufacturing a range of goods, from medical and recycling bins to PVC floor tiles, Unicorn Group, which already has sites in Lisburn, and Markethill in Co Armagh, has grown sales by more than 40% in the last two years.
Roger Pannell, managing director of Unicorn Group, said the company is now "growing our existing facilities and the Lambeg site is an opportunity for us to have all our business production and administration in one location".
"This relocation has the added benefit of providing existing and new staff with the opportunity to develop their careers within the expanded business," he continued.
"We have strengthened our existing workforce recently with a recruitment drive and are excited about the future of our manufacturing operations in Northern Ireland.
"The hard work and dedication of our workforce have enabled us to make this step. In addition to our own workforce, once the site is fully developed, we will be encouraging small and large businesses to join us at the refurbished business park which will further enhance jobs in the area.
"We've been acquiring businesses for the past 20 years and have focused on growing our business and manufacturing operations in Northern Ireland.
"Unicorn Group is actively looking for more businesses to acquire."
We have plans to redevelop the 266,470 sq ft property into a "multi-purpose business, warehousing and manufacturing campus style business park opening the site up for rental opportunities to other businesses", Mr Pannell added.
The former Coca-Cola site includes approximately 266,470 sq ft of industrial, storage and office buildings, together with canopied loading bays.The buildings consist of quality warehousing with an eaves height of 7.3m, which interlinks with the former factory.
The property sits on the banks of the River Lagan, with a brick wall along the boundary. At the southern and eastern boundaries is a 25ft grass-bank that separates the site from the adjoining green fields.The site includes the main warehouse, office and former production areas and a standalone warehouse surrounded by an extensive concreted open storage space, with an additional car parking area beyond.
A concrete road network runs around the main buildings leading to and from the entrance and exit points off Tullynacross Road.
We'll keep you posted on the progress of the move in early 2018!