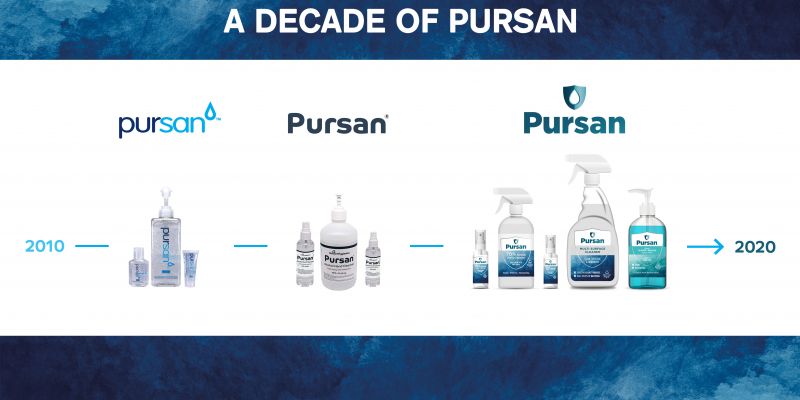 We're celebrating 10 years of Pursan!
We're so proud that our product has helped and continues to make a difference in the fight against Covi19.
Pursan is being utilised in many different markets, including education, corporate , manufacturing, hospitality, retail and healthcare, to help employers and schools etc ensure their staff and pupils are comfortable returning to their workplaces.
It's interesting to reflect on how our brand has developed over the past decade.
After thorough research and development, we moved from a gel to our current liquid formula, which unlike gel dissipates rapidly once applied and offers no lasting odours, whilst leaving hands feeling fresh & clean. It also provides a minimum of 2.5 times more applications per bottle than the average gel, due to our metered dose atomisers and trigger sprays. Throughout this journey, we have remained consistent throughout, as we pride ourselves on producing a UK made ISO & EN certified high quality, value for money product and building a reputable brand, so that is why people choose Pursan.
In fact, due to the success of our 70% Alcohol Hand Cleanser over the past 10 years, we have extended our range to include a Multi-Surface Cleaner, which is also certified to be effective against all enveloped viruses and bacteria and Luxury liquid and foam Soaps.
We'd like to thank you for your continued support.