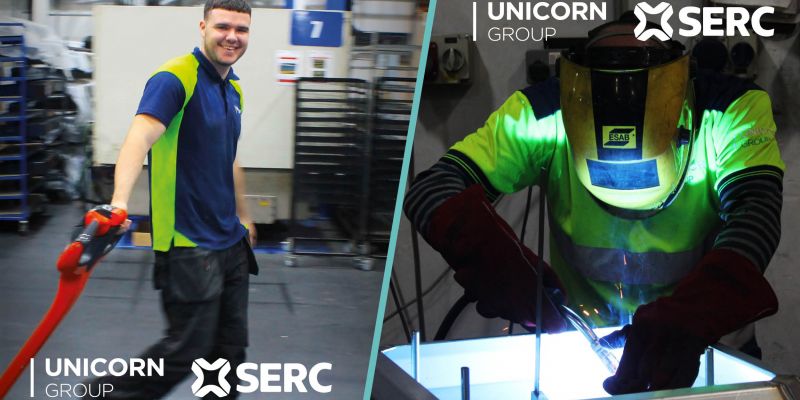 Empowering Apprentices at Unicorn Group
Unicorn Group is passionate about nurturing emerging talent and helping our valued apprentices shape their careers in the manufacturing sector.
Today, we are sharing insight into the career journey of our current apprentices, Cameron and Charlie, who have become integral members of our dynamic team.
But firstly, you may be wondering, "What is Unicorn Group and what does it do?"
We are a dynamic manufacturing business based in Northern Ireland. Unicorn Group has four companies within its group portfolio;
Unicorn Flooring is Europe's leading manufacturer of PVC interlocking floor tiles, represented by two brands, Ecoloc and Flexi-Tile.
Unicorn Hygienics is a manufacturer and supplier of washroom solutions and hygiene products.
Unicorn Urban is a manufacturer and designer of medical sack holders for the health sector.
PFC Rainwater is a manufacturer of extruded aluminium guttering and bespoke and rainwater solutions for both contemporary and historic buildings.
We invest in the latest and most efficient production machinery available, all of which helps us to manufacture excellent quality products across our entire range of businesses in house at our state of the art production factory in Lisburn, Northern Ireland.
Unicorn Group has achieved both ISO 14001 and ISO 9001 certifications, guaranteeing effective processes and management are in place to consistently deliver quality products to market. We are also currently in the process of achieving PAS 2060 carbon neutrality, which we hope to have completed by the end of October 2023.
We are as passionate about developing and nurturing our talent as we are about every other aspect of our organisation.
Cameron: From Part-Time Operator to Apprentice Process Engineer and onto junior process engineer
Cameron's journey with our company began in March 2020 when he joined us as a part-time Production Operator. Right from the start, Cameron showed a keen interest in our manufacturing processes, and we were eager to help him progress.
In just six months, Cameron's dedication earned him a full-time apprenticeship, where he quickly rose to the position of Apprentice Process Engineer. In this role, he took on new responsibilities and tackled complex challenges within a factory setting.
Recently, Cameron achieved a Merit in his studies and graduated with a mechatronics qualification, demonstrating his ability to excel both in our manufacturing environment and academically.
Charlie: From Trainee to Aspiring Apprentice in Record Time
In October 2022, Charlie embarked on his Unicorn Group journey as a work experience Trainee Fabricator/Welder, seeking hands-on manufacturing experience. His positive "can-do" attitude and eagerness to learn quickly made him stand out among our diverse workforce.
In just three months, Charlie's enthusiasm for growth and his willingness to acquire new skills earned him an Apprenticeship. When asked about his favourite aspects of working here, Charlie praised our efficient factory environment and the camaraderie within the team.
Charlie's recent completion of his year one studies marks a significant milestone in his journey, and he is eager to continue pursuing higher education opportunities whilst honing his on the job skills at Unicorn Group.
Shaping Futures Together
Cameron and Charlie's stories illustrate our company's commitment to nurturing budding talent and empowering them to realise their full potential. Our manufacturing facility not only produces a wide range of products but also fosters the careers of passionate individuals like them.
As Cameron and Charlie continue their journeys, we take immense pride in their accomplishments and remain dedicated to supporting their ongoing development.
To Cameron and Charlie, congratulations from the entire team here at Unicorn Group!
We hope that their stories inspire like-minded individuals seeking apprenticeships in the manufacturing sector.
For more information, please contact jaime.bradley@unicorn-group.com