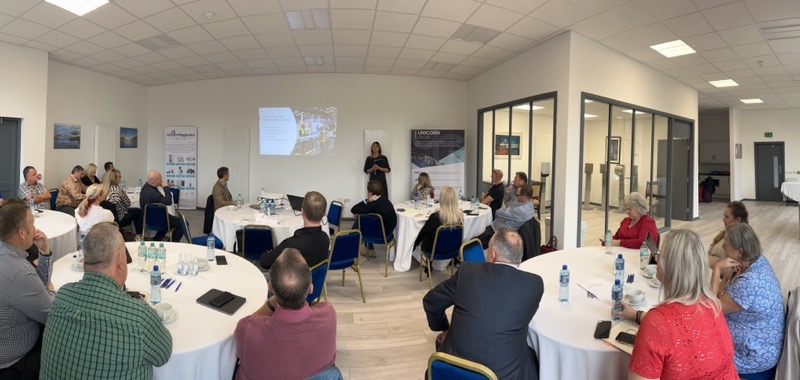 An Inspiring Day of Innovation and Collaboration with the IWSA
The Unicorn Group Headquarters in Northern Ireland played host to a day of knowledge sharing, collaboration, and innovation as the Independent Washroom Services Association (IWSA) attended our conferecne day.
Unicorn Hygienics, was delighted to welcome so many familiar faces and valued IWSA members to our 17.5-acre facility situated along the picturesque banks of the River Lagan.
The conference provided the perfect platform for key players in the washroom and hygiene sector to come together and engage in insightful discussions, share our aspirations and explore cutting-edge washroom solutions.
Presentation by Unicorn Hygienics
The day kicked off with a compelling presentation delivered by Unicorn Hygienics, which encompassed a diverse range of topics. During the presentation, we delved into Unicorn Hygienics' extensive and exciting product offerings, our robust manufacturing capabilities, our latest innovations and our unwavering dedication to sustainable practices. We were thrilled to share our insights and vision with you, and the feedback we received is invaluable to our business.
Factory Tour: Unveiling Manufacturing Excellence
A highlight of the conference was the guided factory tour, providing a firsthand look at Unicorn Hygienics' manufacturing excellence. We take immense pride in producing, almost, our entire Unicorn Hygienics product range in our ISO 9001/14001 certified UK factory facility.
During the tour, attendees observed the cutting-edge technologies and meticulous processes involved in producing, not only, our washroom hygiene products, but products from our extensive portfolio of brands – from flooring, guttering, to medical supplies and beyond.
In-house UK production management offers advantages for both our IWSA members and global customers, including stringent quality control, personalised customer service, ample stock availability and rapid delivery.
AI Presentation: ChatGPT
Oliver Johnson of OPR Consultants, kindly took the stage to deliver an engaging presentation on ChatGPT - a computer program that can have text-based conversations with its users. Attendees were captivated as the presentation showcased the simplicity of accessing automated natural language responses from just a few basic prompts. The interactive discussion highlighted ChatGPT's potential as a valuable business and customer support tool, offering quick and automated responses that can aid and streamline our business communication channels.
Concluding note
We would like to extend our gratitude to our esteemed friends and colleagues for participating in the Unicorn Hygienics IWSA conference. We sincerely hope that the event has bolstered your confidence in our capabilities as a leading supplier and manufacturer of washroom and hygiene products. Thank you for being a part of our journey towards a cleaner and more hygienic future.
Delegate feedback:
"Thank you for such a great day. Very impressed with the set up there at Unicorn hygienics and your commitment to UK manufacturing" Jessica from Eden Washrooms & Hygiene Services Ltd.